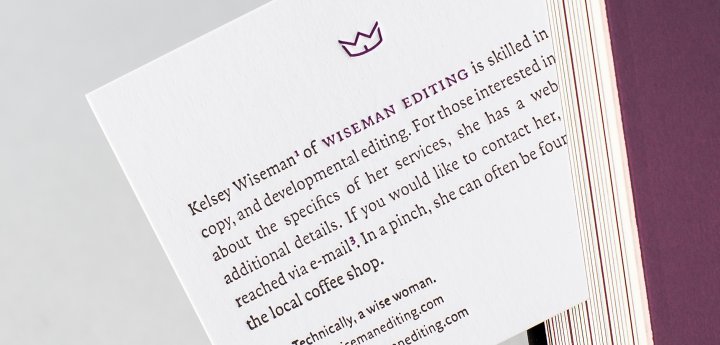 Wiseman Editing
Wiseman Editing
Kelsey Wiseman is a talented freelance copy editor who serves clients in various aspects of editing. She's sharp as a tack and exceptionally snarky. Reflecting her skill level and experience, we created a visual identity that expresses her unique personality while still maintaining a diligent and professional tone.
Scope
Brand Identity
,
Collateral Design
,
Web Design
,
Web Development
,
Copywriting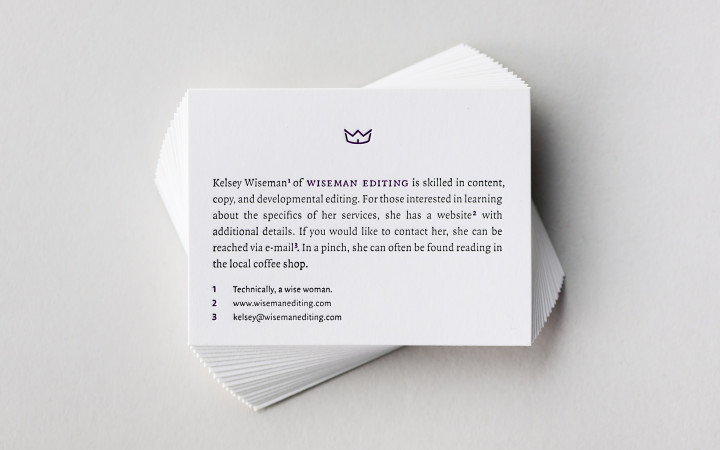 The visual identity alludes to historical texts, inspired by the heritage of Kelsey's profession and her penchant for classic literature. Embracing the serendipitous connotations associated with Kelsey's surname, we created a custom monogram in the shape of a crown. We integrated the monogram into a pattern that references those seen on the inside covers of traditional books. The typefaces we utilized have a contemporary structure with a Renaissance-inspired flair, alluding to the past but providing a modern sensibility. We adapted the idea of footnotes as a recurring component of the brand identity, incorporating unobtrusive splashes of humor and charm in a way that acknowledges her personality without detracting from her professionalism.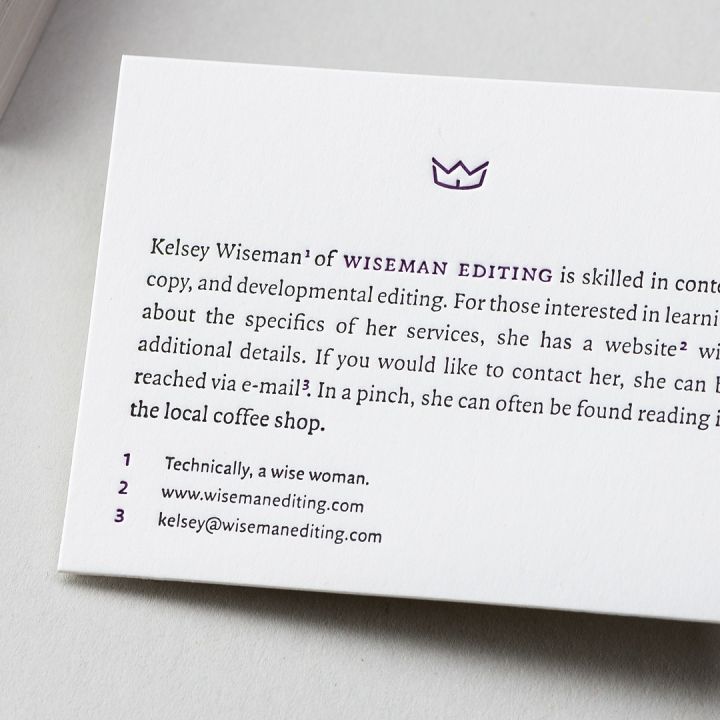 Kelsey's business card is an exceptionally important point of contact and we wanted to achieve a substantial thickness without resorting to cotton-based papers. We stumbled upon Neenah Environment – Folding Board, a 172#, 100% postconsumer cover stock that proved to be the perfect media for our purposes.
The paper performed extremely well in our initial test run. However, since this cardstock is intended for large-run packaging projects, the minimum order was a pallet (we needed about 20 sheets). Determined, we decided to purchase it despite this roadblock and have since sold some of the remaining sheets to a local printer. Long story short, the drive for sustainability can lead you to become an occasional paper merchant.
Business Card Business Card
Neenah Environment, Folding Board (100 PC White, 172# Cover)
100% postconsumer waste (PCW) recycled fibers
Process Chlorine Free (PCF)
Manufactured carbon neutral (RECs certified by Green-e®)
FSC® Certified (Forest Stewardship Council™)
Manufactured in the USA
Letterpress printed with rubber-based inks
Building on the historical references established in the branding concept, we translated the identity to the web while adding unique functionality but avoiding a kitschy interpretation. The navigation is organized as a table of contents, guiding the viewer through the site linearly, as if going from chapter to chapter. When the user hovers over a footnote the corresponding text becomes visually isolated, making it easier to connect the footnote with the phrase that refers to it. Finally, we implemented typographic details often ignored on the web such as lining and oldstyle numerals, ligatures, true superscript numerals, small capitals, kerning tables, and widow prevention.