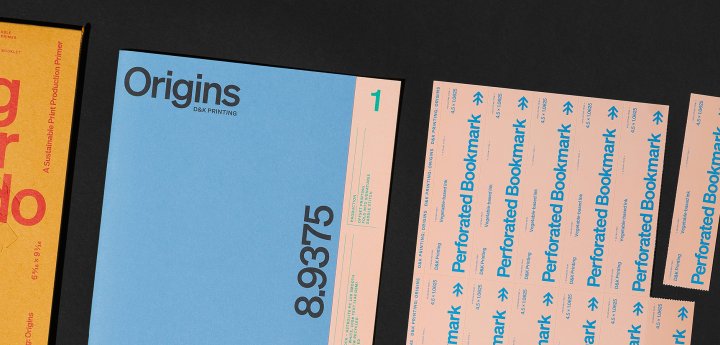 A family-owned and -operated print shop, D&K tasked us with creating a piece that showcases the scope, quality, and ambition of their craft, while also educating their customers about sustainable printing basics. They gave us free rein to design a print promo that exemplifies this in both form and content.
Scope
Print Design
,
Collateral Design
,
Messaging
,
Packaging
,
Photography
Cool Points
Family Owned
,
Sustainability Education
,
Sustainable Print Production
The book is a foundational resource for designers' understanding of process and print production techniques, with a focus on print's core tenets: ink and paper. We carried out the research and content development for the entire piece, with the goal of maximizing sustainability as well as D&K's in-house production capabilities. This is demonstrated twofold: first, in the actual content which educates readers on sustainable printing, and second, in the design application and print production. The final piece includes a booklet, a sheet of bookmarks, and a pocket notebook, all held inside an interactive outer sleeve.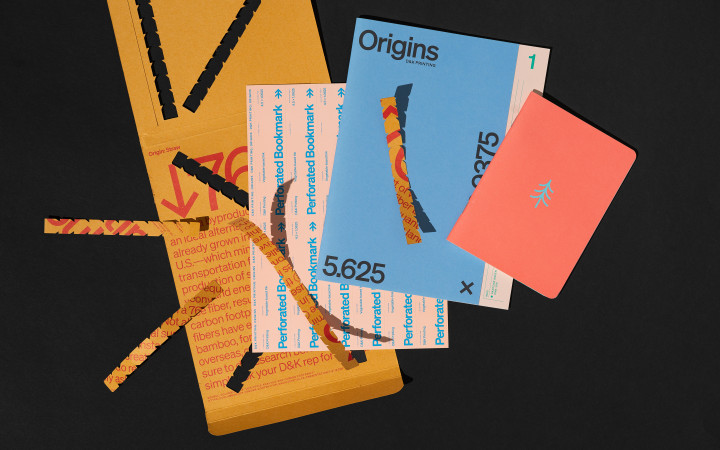 The name "Origins" encapsulates the promo's goals of transparency and insight—of materials, methods, and the print shop's own history. Each spread contains detailed information that is not often explicitly mentioned in a final work: the inks, papers, and production methods, as well as where they are made and how they arrive at their facility. The hope is that it shows the inflection points and demonstrates the power designers have in changing paradigms around creativity and waste.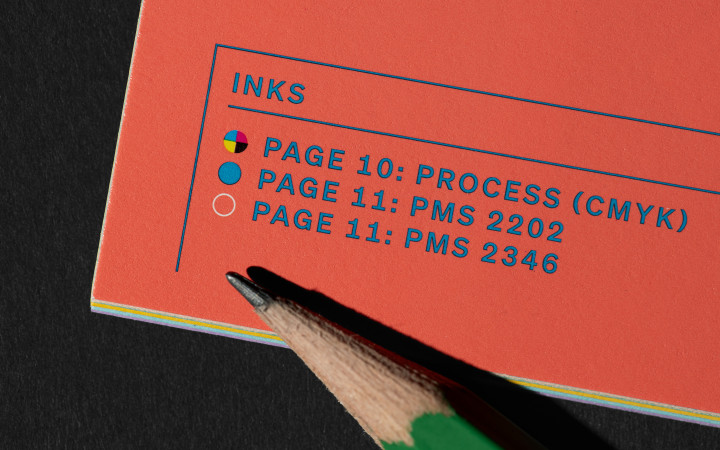 The unique immortality of print lies in its evocative interactivity and materiality. The promo comes alive in the ways it asks readers to participate and engage through sliding, tearing, flipping, ripping, unpacking. Zip strip letters spelling the client's initials demonstrate the delight that can occur when print is combined with playful design.
While the promo showcases classic eco materials like 100% PCW paper and vegetable-based inks, we also chose to spotlight nascent materials like paper made from straw pulp and ink made with algae-based pigments. Not only are designers introduced to these as viable and attractive options, they're also able to see how they feel and behave in real time while interacting with the piece.
Booklet – Cover Booklet – Cover
Mohawk Via – Vellum (Blue, 80# Cover)
30% postconsumer waste (PCW) recycled fibers
Process Chlorine Free (PCF)
FSC® Certified (Forest Stewardship Council™)
Manufactured in the USA
Offset printed with Living Ink Algae Ink (86% biorenewable content)
Booklet – Interior Booklet – Interior
Monadnock Astrolite PC 100 – Smooth & Velvet (Bright White, 100# Text)
100% postconsumer waste (PCW) recycled fibers
Process Chlorine Free (PCF)
FSC® Certified (Forest Stewardship Council™)
Manufactured in the USA
Offset printed with Heidelberg Saphira low-VOC (less than 1%), vegetable-based inks (60–70% biorenewable content)
Notebook – Cover Notebook – Cover
Monadnock Astrolite PC 100 – Smooth (Bright White, 100# Text)
100% postconsumer waste (PCW) recycled fibers
Process Chlorine Free (PCF)
FSC® Certified (Forest Stewardship Council™)
Manufactured in the USA
Offset printed with Heidelberg Saphira low-VOC (less than 1%), vegetable-based inks (60–70% biorenewable content)
Notebook – Interior Notebook – Interior
Neenah Paper, Conservation – Smooth (White PC 100, 24W)
100% postconsumer waste (PCW) recycled fibers
Process Chlorine Free (PCF)
FSC® Certified (Forest Stewardship Council™)
Manufactured in the USA
Offset printed with Heidelberg Saphira low-VOC (less than 1%), vegetable-based inks (60–70% biorenewable content)
Bookmark Sheet Bookmark Sheet
Monadnock Astrolite PC 100 – Velvet (C2S, 150# Cover)
100% postconsumer waste (PCW) recycled fibers
Process Chlorine Free (PCF)
FSC® Certified (Forest Stewardship Council™)
Manufactured in the USA
Offset printed with Heidelberg Saphira low-VOC (less than 1%), vegetable-based inks (60–70% biorenewable content)
Outer Sleeve Outer Sleeve
Mohawk Paper – Renewal (Straw – Wheat, 120# Cover)
30% Straw, 70% FSC-certified fiber
FSC® Certified (Forest Stewardship Council™)
Manufactured in the USA
Offset printed with Heidelberg Saphira low-VOC (less than 1%), vegetable-based inks (60–70% biorenewable content)