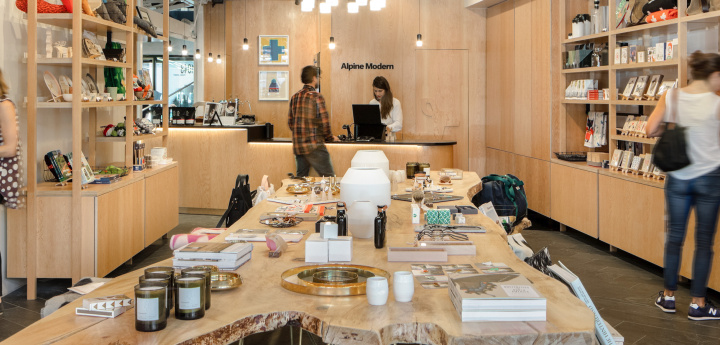 Alpine Modern
Alpine Modern
Alpine Modern is a lifestyle brand combining an appreciation for modern design and love of the outdoors. Their ever-expanding ventures span retail, editorial, consumer goods, dining, and coffee. We redesigned their brand identity and helped them branch into new sectors.
Scope
Brand Identity
,
Brand Strategy
,
Collateral Design
,
Periodical Design
,
Art Direction
,
Illustration
,
Print Design
Cool Points
Sustainable Print Production
,
Family Owned
Alpine Modern's original brand identity was grounded by a strong symbol concept that had accrued significant brand recognition. In order to preserve its equity, we designed a symbol that maintained the basic structure of the original. The new symbol provides a more harmonious relationship with the typography and performs better in a wider range of applications. (One customer even got it tattooed on their arm.) We helped establish greater consistency and unity within the brand by designing a more focused typographic system, developing a distinctive layout scheme, and formalizing a style for imagery.

With the AM icon as a starting point, we created a cohesive illustration system for Alpine Modern to use in myriad situations including signage, interiors, and products spanning coasters, pins, t-shirts, patches, candles, and more.
Alpine Modern moved into a new retail store in the West Pearl district of downtown Boulder, Colorado, and we were tasked with creating a signage system for the new flagship store. Inside, we designed identification signage for the Coffee Bar in addition to a distinctive, full-size dimensional deer set against the back wall. The exterior facade and blade signs use reclaimed Douglas Fir wood (relating to the interior design of the shop) which lends a distinctive warmth and unique character to the signs.
Alpine Modern's quarterly magazine explores architecture and design in mountain regions around the world. The stories and photography express the emerging design ethos of a minimal, refined life entwined with the outdoors.