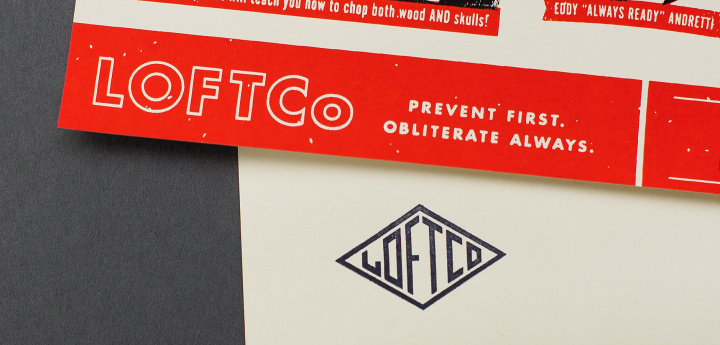 The Loft Cinema, a beloved independent movie theater, sought to expand their offerings with an additional screen and digital projection capability. They brought us in to brand their capital campaign, "Building for the Future," which successfully raised over $1.4 million and secured the future of the non-profit theater.
Scope
Brand Identity
,
Brand Strategy
,
Print Design
,
Illustration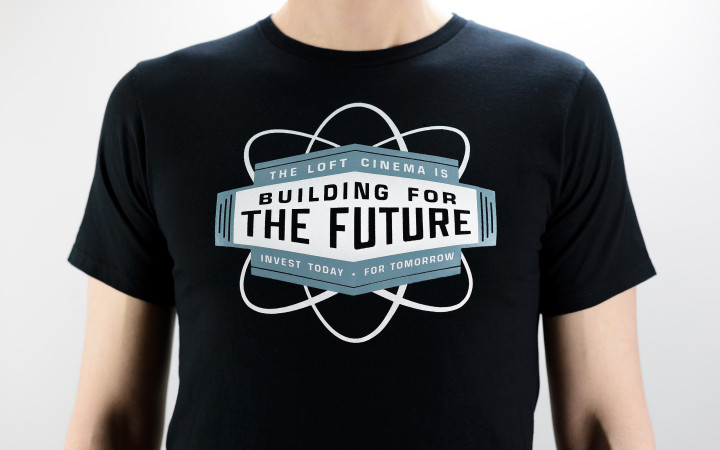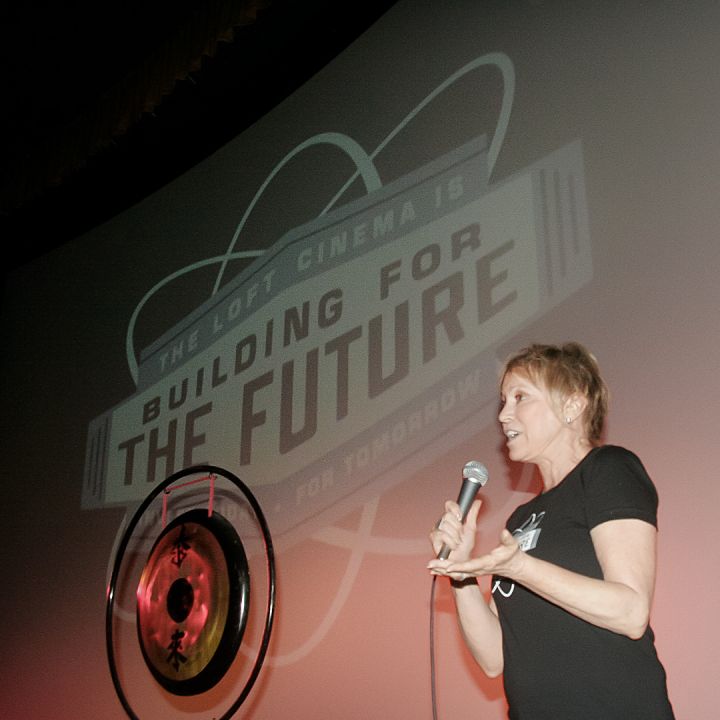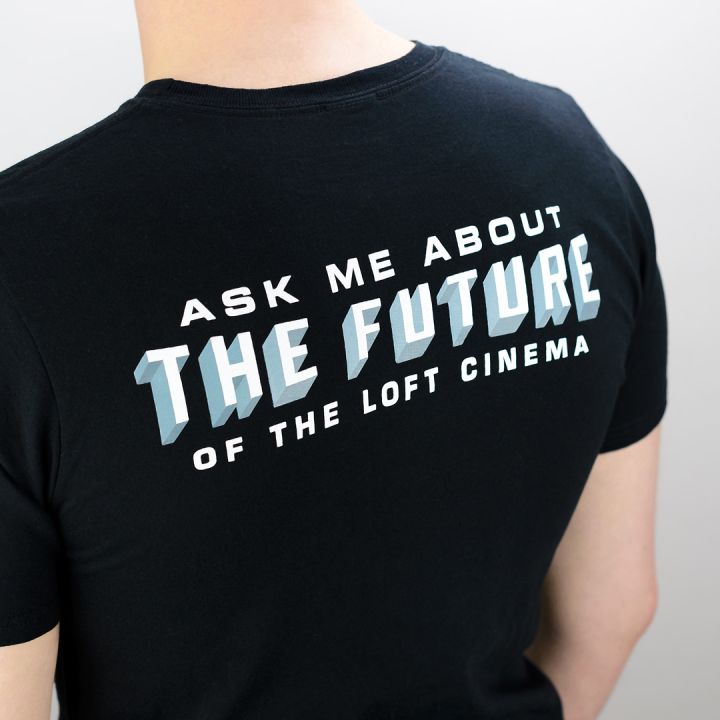 Environmental responsibility is an integral component of The Loft's business model and as a result implementing sustainable practices comes naturally. We were able to find affordable organic options for both men's and women's t-shirts and used a local printer to bring the design to fruition.
T-Shirt (Women's) T-Shirt (Women's)
Screen printed on American Apparel 2102
Made with organic cotton
Knit, cut, and sewn in the USA
Low impact dyeing process
T-Shirt (Men's) T-Shirt (Men's)
Screen printed on Anvil 420
Made with USA-grown organic cotton
A yearly event put on by The Loft Cinema, Scream-O-Rama is billed as the "sickest, scariest, most scream-errific cinematic slaughterhouse you've ever seen." Scream-O-Rama is a twelve-hour horror extravaganza featuring seven classic horror movies which we carefully wove into our concept. We designed and screen printed a poster inspired by the ridiculous ads in vintage magazines (the kind that attempt to jam as much information as possible into a single page), and wrote copy for seven fictitious products that relate to the event's seven films.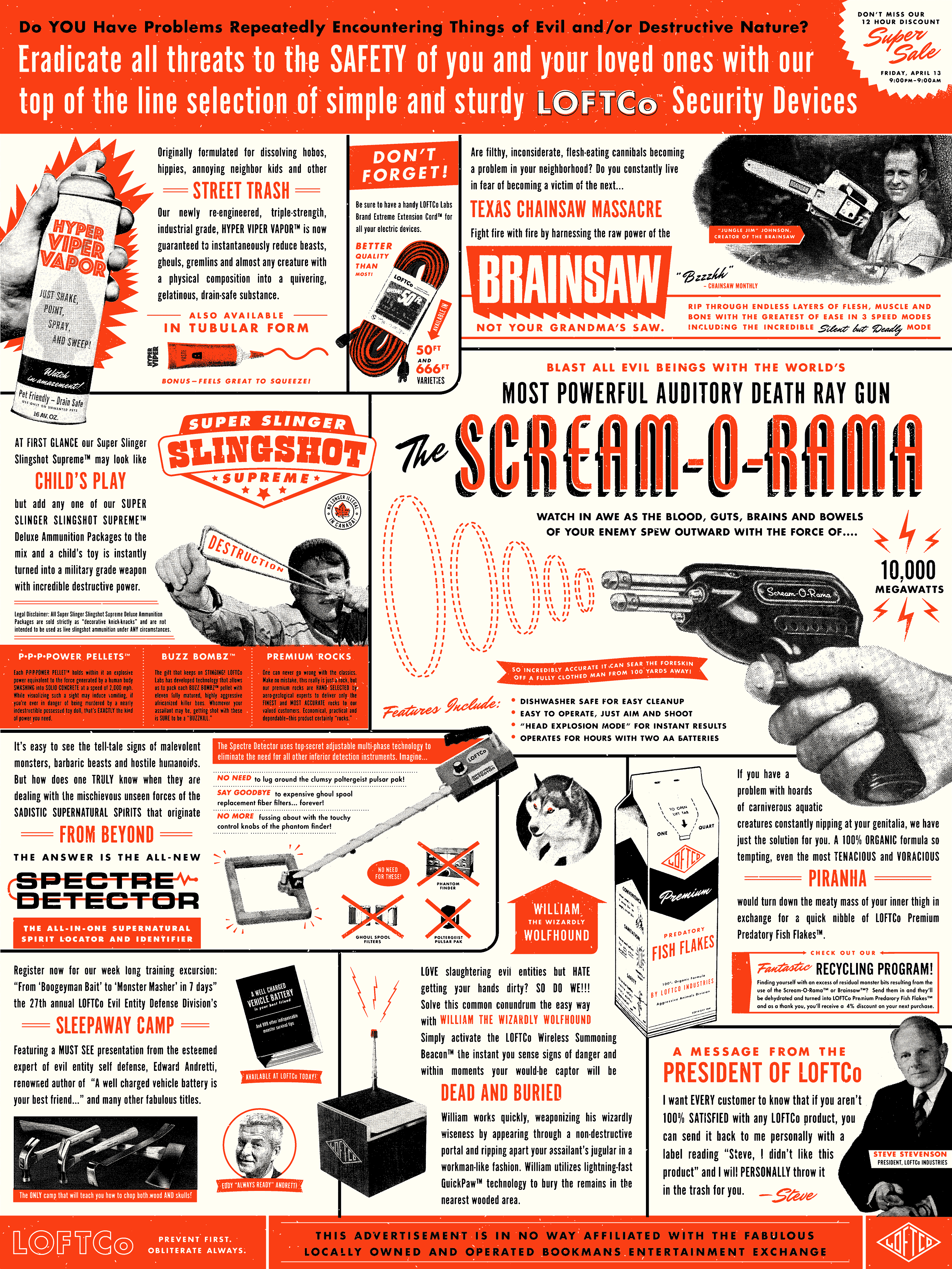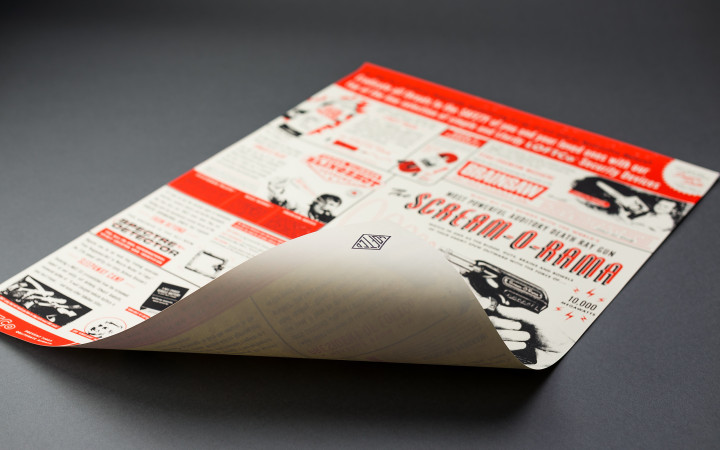 LoftCo
We envisaged LoftCo, a fictional subsidiary of The Loft Cinema, to be used as a playful, tongue-in-cheek nickname for the theater's goods (LoftCo Poster, LoftCo Popcorn, etc.). The novel concept, fully embraced by the staff (we heard someone was getting a LoftCo tattoo), reinforces the Loft's humourous, fun, and slightly irreverent attitude that epitomizes the organization.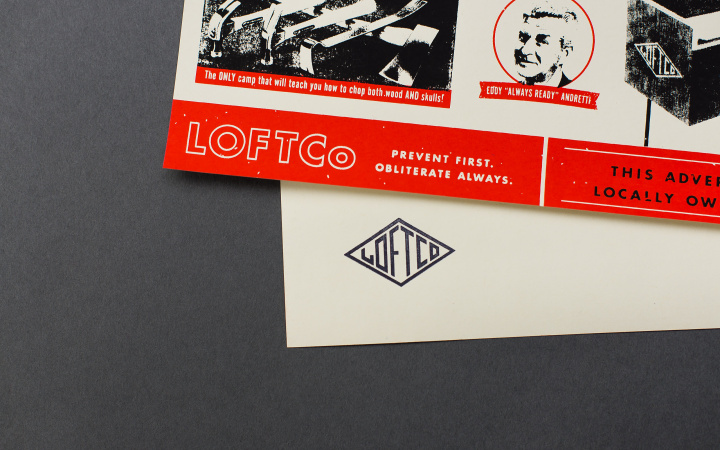 We screen printed the posters on a 100% postconsumer stock that has a beautiful and subtle cream color. Despite that fact that the stock was only 80# it held up well to screen printing, which, due to the heavy amount of water soaked up by the stock, has the possibility of warping lighter weights of paper.
Poster Poster
Mohawk Paper Loop, Smooth (Ivory, 80# Cover)
100% postconsumer waste (PCW) recycled fibers
Process Chlorine Free (PCF)
Manufactured carbon neutral (RECs certified by Green-e®)
FSC® Certified (Forest Stewardship Council™)
Manufactured in the USA
Screen printed with water-based inks and green chemistry