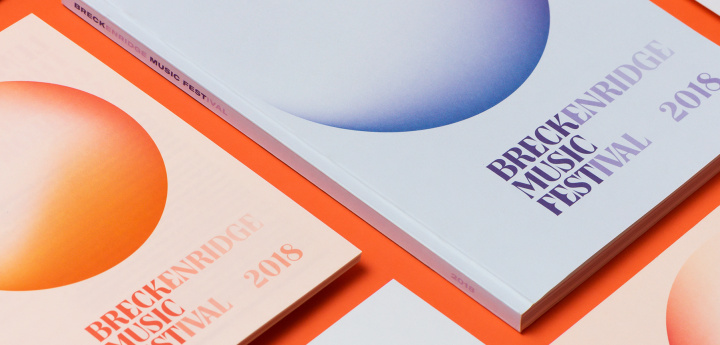 Breckenridge Music
Breckenridge Music
Breckenridge Music is a Colorado non-profit dedicated to increasing access to the arts. They are known for their annual summer festival featuring classical music, jazz, and contemporary Americana. We helped them develop a new brand strategy and visual identity for their organization and programming.
Scope
Brand Identity
,
Brand Strategy
,
Naming
,
Print Design
,
Collateral Design
,
Motion Graphics
,
Signage
,
Web Design
,
Web Development
Cool Points
Nonprofit
,
Supports Local Arts
,
Sustainable Print Production
,
Inclusive Programming
,
Woman-led
01
Organizational Branding
Our aim for the organizational brand identity was to represent Breckenridge Music as a steward of the arts, reflecting the organization's reverence for classical music while also expressing their folky mountain-town vibe in order to communicate their range of programming. Fading part of their wordmark alludes to that duality and allows it to be read as both the informal name (Breck Music) and formal name (Breckenridge Music) in the same mark.
Naming Strategy
Although they orchestrate myriad events and programs outside of the yearly festival, the organization was using "Breckenridge Music Festival" as a top-level organizational name. Changing the name to "Breckenridge Music" and including the festival in a new series of sub-brands, the naming system helps clarify the organizational structure and amplify brand recognition.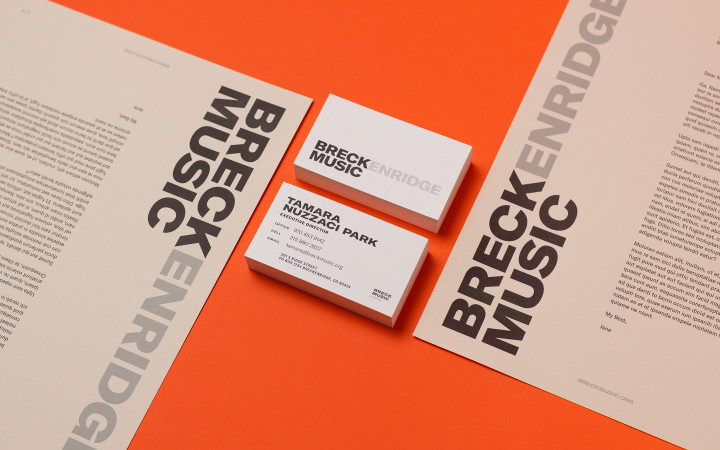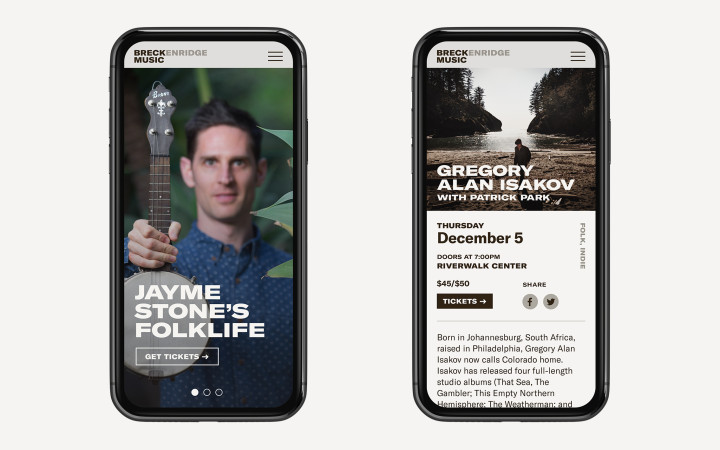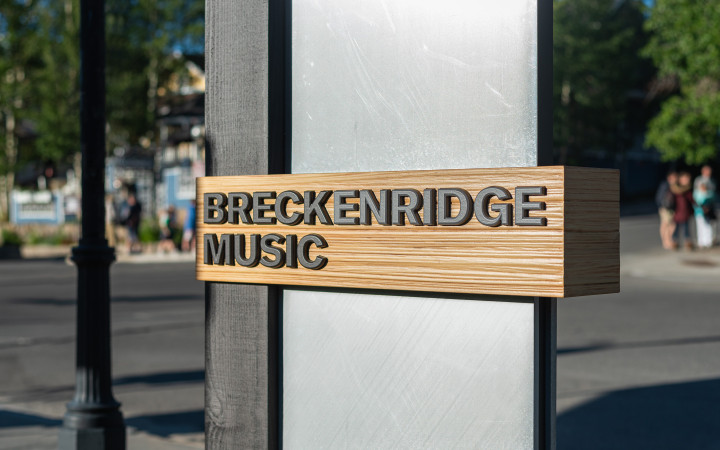 While the organizational branding provides a formal and unobtrusive framework, the festival branding exudes a rich, expressive visual tone that continually evolves. Each year, Breck Music's artistic director establishes a theme for the festival's programming, inspiring a fresh, unique visual identity season after season.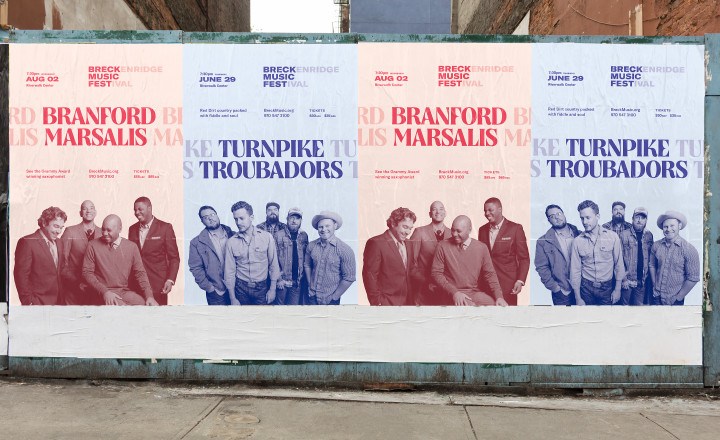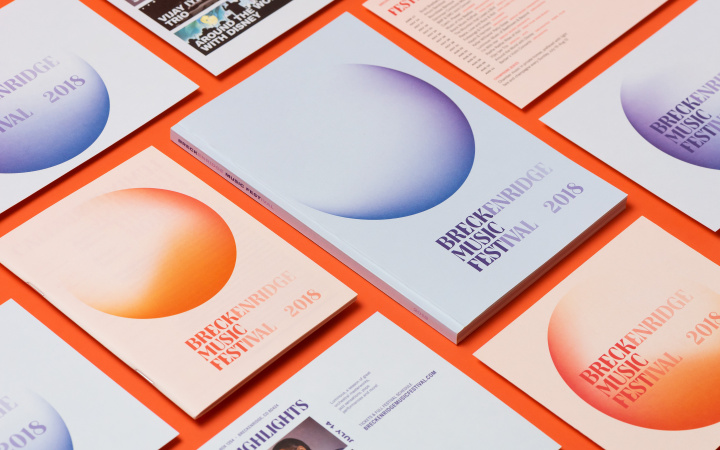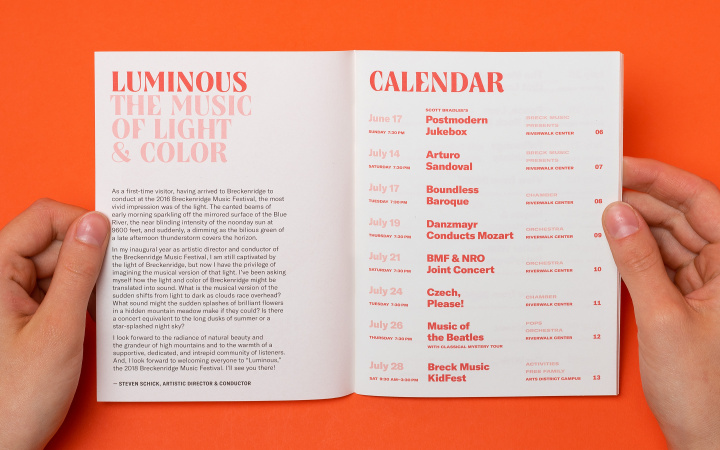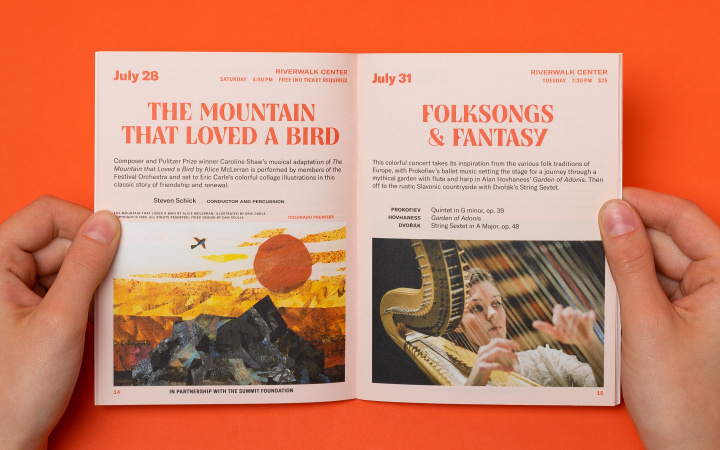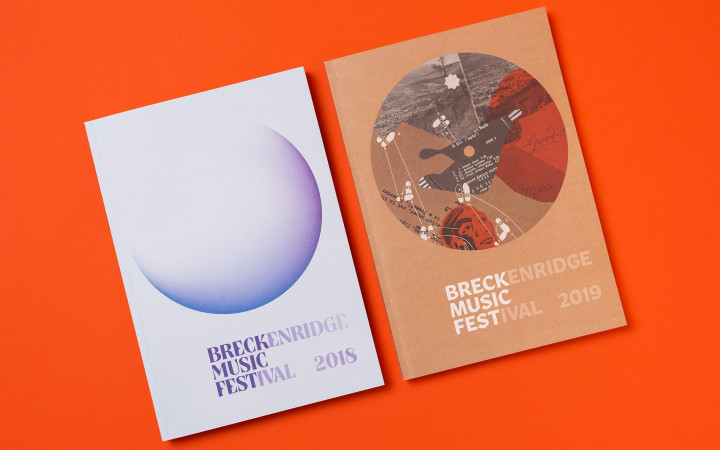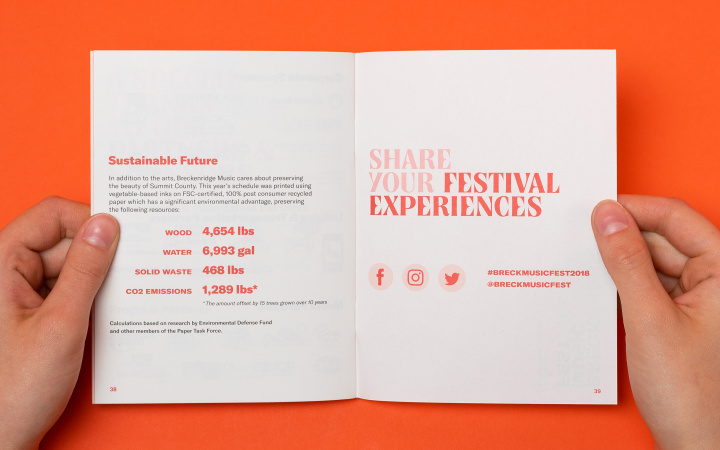 Breckenridge Music's marketing strategy relies on a wide variety of printed collateral including postcards, brochures, program books, and print ads. We helped them transition to using recycled papers which, compounded over multiple years, have a significant environmental benefit. In addition to using more environmentally friendly materials, we continue to help Breck Music reduce the overall amount of printed communication they produce by shifting to digital ads and videos.
Season Calendar Booklet Season Calendar Booklet
Neenah Paper, Conservation – Smooth (White PC 100, 70# Text)
100% postconsumer waste (PCW) recycled fibers
Process Chlorine Free (PCF)
FSC® Certified (Forest Stewardship Council™)
Manufactured in the USA
Offset printed with Toyo Hyplus 100, low-VOC (less than 1%), vegetable-based inks (70% biorenewable content)
Postcard Postcard
Neenah Paper, Conservation – Smooth (White PC 100, 110# Cover)
100% postconsumer waste (PCW) recycled fibers
Process Chlorine Free (PCF)
FSC® Certified (Forest Stewardship Council™)
Manufactured in the USA
Offset printed with Toyo Hyplus 100, low-VOC (less than 1%), vegetable-based inks (70% biorenewable content)
Program Book Program Book
International Paper, Accent Opaque RE-30 – Smooth (70# Text)

30% postconsumer waste (PCW) recycled fibers
FSC® Certified (Forest Stewardship Council™)
Manufactured in North America
Offset printed with Toyo Hyplus 100, low-VOC (less than 1%), vegetable-based inks (70% biorenewable content)